At Dripping Springs Rental Center, the old school way of doing business thrives.
Doing what it takes to make it right, treating all customers well, and getting a "Hey Greg, how are you doing today?" from Owner, Buddy or Manager, Laddy as you walk in the door, are just a few reasons for this shop's success. First rate service is more than just a motto; it's put into practice daily. Just ask anyone in town.
The equipment rental business runs deep in this family-run business.
After working at a rental shop in East Texas while in college, Buddy recognized a need in his hometown of Dripping Springs. Started from scratch and supported by word of mouth, Dripping Springs Rental Center has been providing fine rental equipment to the hill country for almost 14 years.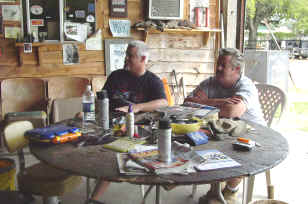 So, when you come in, be sure to stop and chat, gather around "the table" in the shop, say hello to Amigo and Roxie, and be prepared to enjoy the friendly atmosphere of unprecedented service and quality rental equipment.